Hello again, traveler! (Scroll to the images of a fluffy Highland cows divider for the rec list! In fact, read the rec list first! But only if you want.)
SYNOPSIS:
Forget the dark, enchanted forest. Picture instead a masterfully evoked Old West where you are more likely to find coyotes as the seven dwarves. Insert into this scene a plain-spoken, appealing narrator who relates the history of our heroine's parents — a Nevada silver baron who forced the Crow people to give up one of their most beautiful daughters, Gun That Sings, in marriage to him. Although her mother's life ended as hers began, so begins a remarkable tale: equal parts heartbreak and strength. This girl has been born into a world with no place for a half-native, half-white child. After being hidden for years, a very wicked stepmother finally gifts her with the name Snow White, referring to the pale skin she will never have. Filled with fascinating glimpses through the fabled looking glass and a close-up look at hard living in the gritty gun-slinging West, this is an utterly enchanting story… at once familiar and entirely new.
MY RATING: ★★
"Saint Michael doesn't question why when the Big Dog says git." (I just enjoyed this line.)
I picked up this book from my school's online library because it didn't have a wait time, hehe.
Catherynne M. Valente is (probably; this position often fluctuates! I'm more of Ken Liu stan nowadays) my favorite writer. Her works are some of the wildest rides I've ever caught hold of. Six-Gun Snow White is no exception.
I'm still giving it two stars, though.
Hear me out!
The book had a great start. Though it was nearing midnight as I began scouring it, I couldn't put down my e-reader for the life of me. I liked getting into Snow White's head, and experiencing the world through her eyes.
Halfway through the novel, the perspective changed from first to third — past to present — and this confused me.
But I figured, "You know what? I'm gonna just roll with it." So I rolled with it. A lot of Catherynne M. Valente's writing requires you to roll with it — I've always found this aspect of her work wonderful and peculiar.
Six-Gun Snow White in particular is gruesome and gory, and definitely not for anyone. I tilt my cap towards the Wild, Wild West, but I can't bring myself to like this book.
A quick disclaimer before we continue: Though I am a person of color (Asian-American, specifically), I cannot claim indigenous ancestry. I can't speak directly on the validity of Six-Gun Snow White as a commentary on the struggles faced by Native Americans. Take my observations with a grain of salt, rice, or sand! It is not my intention to be disrespectful towards the history of Native American people. (I encourage you to read a review of this book from a Native American reader here and here!)
It is not my intention to be disrespectful towards Valente as an author, either. I acknowledge that this book was written seven years ago. Valente has improved a lot in her writing over the years, especially with her more recent works, like Space Opera, which has great LGBT and POC characters.
I am always willing to learn and grow — feel free to correct me on anything I may have missed, or tell me about your own experiences.
Let's march on, my dear traveler.
As much as I adore her writing, the fact that Catherynne M. Valente writes about the plight of ethnic minorities despite not being an ethnic minority herself has always sat weird with me. For instance, many of her stories boast Asian (usually Japanese) settings and characters. Her style presents Asian culture as otherworldly and ethereal, and often forgets the humanity behind a society foreign to her.
Authors should be allowed to write about the entire breadth of the human experience. They should write about cultures other than they own — the world is diverse, and an author's job is to capture the world on pages and paper.
Still, stories that focus on these marginalized groups — specifically, stories that focus on the pain and suffering that may come from being marginalized — can seem inauthentic and even exploitative if the writer truly doesn't know the experiences of living in that culture. It's easy to fall into tropes and stereotypes — one's preconceived notions about others may take over implicitly. (Vulture complies authors' thoughts on writing diverse stories here. Sarah Rimer from Boston University discusses a similar topic in this article about the problematic novel, American Dirt.) After all, every argument requires ethos.
That's why, as a writer, you do your research! Refer to resources such as Writing With Color (a blog with great tips on writing people of color). Listen to the marginalized groups you are featuring. Find sensitivity readers. Be empathetic, and be kind. Elevate others' voices!
Though this is often easier said than done. With Six-Gun Snow White, Valente attempts to elucidate on the plight of Native Americans through her unique prose. But the book stumbles painfully: it sometimes plays into reductive tropes and descriptions, and is often gratuitously violent. Simply put, it was not quite it.
As uncomfortable as I am with her early portrayals of people of color, Valente is still one of my favorite writers, and I still admire her skill. (I found her writing at the right time, I suppose!) Six-Gun Snow White should still be examined and criticized. (Even relics have weight.) You can learn a lot about misguided representation from reading this book. I still wish that it didn't fall so short. I'm glad that Valente's storytelling has changed for better since the writing on this book.
Yippee-ki-yay.
I initially marked this novel a 3.6-star read. Maybe a 3.7. But I'm keeping this rating at bay with a lowered 2.5 — a 2. Let's circle down in the same way you round down on heads of cattle.
Bonus round!
Here are eight books (from a plethora of genres) by indigenous authors in my TBR that you can read in place of Six-Gun Snow White, if you would prefer! I have also included links in which you can add these books on Goodreads, or purchase a copy if the synopses strike your fancy!
And if you have the means, please support organizations such as The Native Wellness Institute and The Native American Heritage Association.
Trail of Lightning by Rebecca Roanhorse
Synopsis:
While most of the world has drowned beneath the sudden rising waters of a climate apocalypse, Dinétah (formerly the Navajo reservation) has been reborn. The gods and heroes of legend walk the land, but so do monsters.
Maggie Hoskie is a Dinétah monster hunter, a supernaturally gifted killer. When a small town needs help finding a missing girl, Maggie is their last—and best—hope. But what Maggie uncovers about the monster is much larger and more terrifying than anything she could imagine.
Maggie reluctantly enlists the aid of Kai Arviso, an unconventional medicine man, and together they travel to the rez to unravel clues from ancient legends, trade favors with tricksters, and battle dark witchcraft in a patchwork world of deteriorating technology.
As Maggie discovers the truth behind the disappearances, she will have to confront her past—if she wants to survive.
Welcome to the Sixth World.
---
Monster hunters? Gods among men?

Sounds right up my alley!

And I'm a fan of Roanhorse. Her short stories, like this one, are amazing.
Goodreads | Book Depository | Bookshop
Robopocalypse by Daniel H. Wilson
SYNOPSIS:
In the near future, at a moment no one will notice, all the dazzling technology that runs our world will unite and turn against us. Taking on the persona of a shy human boy, a childlike but massively powerful artificial intelligence known as Archos comes online and assumes control over the global network of machines that regulate everything from transportation to utilities, defense and communication.

In the months leading up to this, sporadic glitches are noticed by a handful of unconnected humans — a single mother disconcerted by her daughter's menacing "smart" toys, a lonely Japanese bachelor who is victimized by his domestic robot companion, an isolated U.S. soldier who witnesses a "pacification unit" go haywire — but most are unaware of the growing rebellion until it is too late.

When the Robot War ignites — at a moment known later as Zero Hour — humankind will be both decimated and, possibly, for the first time in history, united.
---
I love a good sci-fi!

Hit me with that robotic revolution, yes please.

Also, this cover stares into my spirit.
Goodreads | Book Depository | Bookshop
There There by Tommy Orange
SYNOPSIS:
Tommy Orange's wondrous and shattering novel follows twelve characters from Native communities: all traveling to the Big Oakland Powwow, all connected to one another in ways they may not yet realize. Among them is Jacquie Red Feather, newly sober and trying to make it back to the family she left behind. Dene Oxendene, pulling his life together after his uncle's death and working at the powwow to honor his memory. Fourteen-year-old Orvil, coming to perform traditional dance for the very first time. Together, this chorus of voices tells of the plight of the urban Native American — grappling with a complex and painful history, with an inheritance of beauty and spirituality, with communion and sacrifice and heroism.
---
This one's a classic!

If a book "shatters," then I'm grabbing it!

I'm always down for multi-perspective stories.
Goodreads | Book Depository | Bookshop
The Absolutely True Diary of a Part-Time Indian by Sherman Alexie
SYNOPSIS:
Bestselling author Sherman Alexie tells the story of Junior, a budding cartoonist growing up on the Spokane Indian Reservation. Determined to take his future into his own hands, Junior leaves his troubled school on the rez to attend an all-white farm town high school where the only other Indian is the school mascot.
---
"I was born with water on the brain."

What a striking first line!

The Goodreads preview of this novel really pulled me in.

I'm enamored with the clever wit of the protagonist, and the illustrations included in each chapter! Can't wait to read this one.
Goodreads | Book Depository | Bookshop
Trinity Sight by Jennifer Givhan
SYNOPSIS:
Anthropologist Calliope Santiago awakens to find herself in a strange and sinister wasteland, a shadow of the New Mexico she knew. Empty vehicles litter the road. Everyone has disappeared-or almost everyone. Calliope, heavy-bellied with the twins she carries inside her, must make her way across this dangerous landscape with a group of fellow survivors, confronting violent inhabitants, in search of answers. Long-dead volcanoes erupt, the ground rattles and splits, and monsters come to ominous life. The impossible suddenly real, Calliope will be forced to reconcile the geological record with the heritage she once denied if she wants to survive and deliver her unborn babies into this uncertain new world.
---
Apocalypse narrative with a female protagonist!
I'm intrigued by Trinity Sight's lyricality, as well.

I love reading books that sing.
Goodreads | Book Depository | Bookshop
Shadows Cast By Stars by Catherine Knutsson
SYNOPSIS:
Two hundred years from now, blood has become the most valuable commodity on the planet— especially the blood of aboriginal peoples, for it contains antibodies that protect them from the Plague ravaging the rest of the world.
Sixteen-year-old Cassandra Mercredi might be immune to Plague, but that doesn't mean she's safe — government forces are searching for those of aboriginal heritage to harvest their blood. When a search threatens Cassandra and her family, they flee to the Island: a mysterious and idyllic territory protected by the Band, a group of guerrilla warriors— and by an enigmatic energy barrier that keeps outsiders out and the spirit world in. And though the village healer has taken her under her wing, and the tribal leader's son into his heart, the creatures of the spirit world are angry, and they have chosen Cassandra to be their voice and instrument…
---
A book about a healer-seer girl!
Shadows Cast by Stars has such an alluring synopsis.
I'm interested in the incorporation of Greek and Arthurian legend in this novel, too.

This is pure speculation, but maybe the name 'Cassandra' is an allusion to the ancient myth?

I'll let you know if it is!
Goodreads | Book Depository | Bookshop
Love BeyonD Body, Space, and Time: An Indigenous LGBT Sci-Fi Anthology edited by Hope Nicholson
SYNOPSIS:
"Love Beyond, Body, Space, and Time" is a collection of indigenous science fiction and urban fantasy focusing on LGBT and two-spirit characters. These stories range from a transgender woman trying an experimental transition medication to young lovers separated through decades and meeting far in their own future. These are stories of machines and magic, love, and self-love.
This collection features prose stories by:
Cherie Dimaline

"The Girl Who Grew a Galaxy"
"Red Rooms"

Gwen Benaway

"Ceremonies for the Dead"

David Robertson

"Betty: The Helen Betty Osborne Story"
Tales From Big Spirit series

Richard Van Camp

"The Lesser Blessed"
"Three Feathers"

Mari Kurisato

"Celia's Song"
"Bent Box"

Nathan Adler
Daniel Heath Justice

"The Way of Thorn and Thunder: The Kynship Chronicles"

Darcie Little Badger

"Nkásht íí, The Sea Under Texas"
---
Anthologies have some of the best writing!

I enjoy seeing the recurring themes and contrasting expressions in story collections.

I'm excited to read more LGBT stories, and find more awesome writers to follow.
Goodreads | Indiebound | Indigo
Mongrels by Stephen Graham Jones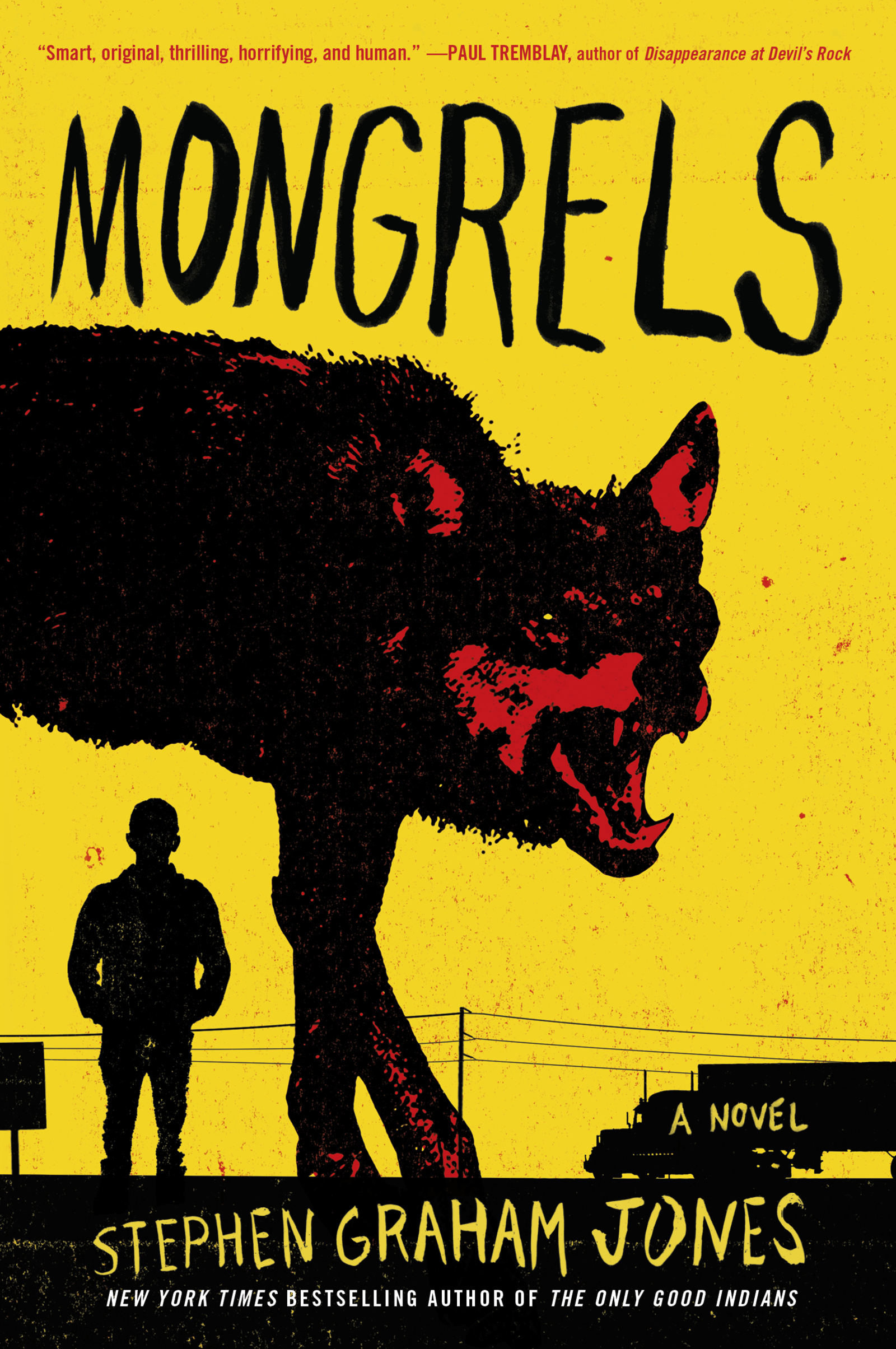 SYNOPSIS:
He was born an outsider, like the rest of his family. Poor yet resilient, he lives in the shadows with his Aunt Libby and Uncle Darren, folk who stubbornly make their way in a society that does not understand or want them. They are mongrels, mixedblood, neither this nor that. The boy at the center of Mongrels must decide if he belongs on the road with his aunt and uncle, or if he fits with the people on the other side of the tracks.
For ten years, he and his family have lived a life of late-night exits and close calls — always on the move across the South to stay one step ahead of the law. But the time is drawing near when Darren and Libby will know if their nephew is like them or not. And the close calls they've been running from for so long are catching up fast, now. Everything is about to change.
---
Lycanthropic coming-of-age!

What more could I ask for?

This novel explores family dynamics and ideas on belonging — you know how much I enjoy family dynamics and ideas on belonging.
Goodreads | Indigo | IndieBound
---
Thank you so much for reading my review! Please remember to drink water, get plenty of rest, and stay safe. I hope your day is wonderful.
---
Coming up next on my blog: the 20 best diverse releases of 2020, according to the Internet Book Community! Don't miss it!